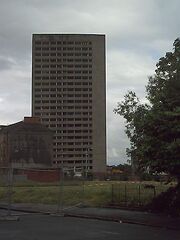 4 Millerfield Place was a 23 storey tower block in on the Millerfield scheme in Dalmarnock, Glasgow.
Approved in 1962 in phase one of the Summerfield development, Laidlaw carried out the construction of the building using the Prometo method. The design was by Glaswegian architects, Parry & Hughes. The building was completed in 1964.
It was part of a quartet of 23 storey tower blocks on the Millerfield high rise housing estate and was the last to be demolished in a massive regeneration effort to turn Dalmarnock into a potential Commonwealth Games village which resulted in the demolition of the twelve maisonettes and the 4 tower blocks. Complications with preparing the building for demolition prevented it from being imploded in late-February 2007 as planned. This was possibly as a result of an experiment into high rise fires conducted by the University of Edinburgh[1] in 2006 affecting the structure's stability. At 11am on 9 September 2007, 4 Millerfield Place was finally demolished, leaving the entire Millerfield estate empty and awaiting new development.