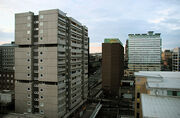 The Anderston Centre is a mixed use commercial, retail and housing development in the district of Anderston, Glasgow.   The original centre of the area was completely destroyed during the construction of the Glasgow Inner Ring Road (now part of the M8 Motorway), and the complex was intended to replace all of the functions of the old Anderston Cross, therefore the building is often classified as a megastructure.
Built between 1967 and 1973, it was designed by the celebrated architect Richard Seifert, who was behind many of London's modern landmarks such as Centre Point, the NatWest Tower and Euston railway station.
The principal contractor in its construction was Myton. The low rise commercial elements originally comprised a bus station, snooker club and a shopping centre, but these elements of the complex have now been demolished. A small section of the old shopping precinct, the office blocks (now known as "Cadogan Square") and the car park within the undercroft of the complex have survived and are still in use.
The residential element, known as Blythswood Court, has also survived and consists of three 19-storey tower blocks, which contain 5 commercial floors devoted to offices (and originally, shops) and the upper 14 floors consisting of residential dwellings.
These blocks are now owned by the Glasgow West Housing Association. A project to refurbish the blocks with overcladding was completed in 2011.