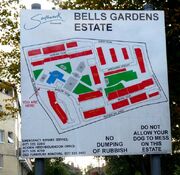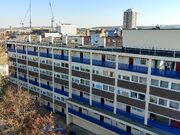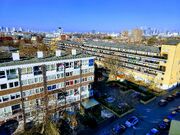 The Bells Gardens Estate is in Peckham in the London Borough of Southwark. It is also known as "The Yellow Brick". The estate has an active Tenants and Residents Association.
The buildings on the estate were built in two phases. Angelina, Bunbury and Edwin Houses were approved in 1957 and built by Tersons.[1] The yellow brick blocks were approved in 1976 and built by Mowlem.[2]
Southwark Council plans to build new homes on the area currently occupied by the community centre, football pitch, playground and green space. At time of writing (May 2020) the proposal is being discussed with a committee involving local residents.
List of blocks
[
]
| Block | Stories | Units |
| --- | --- | --- |
| Angelina House | 6 | 39 |
| Bunbury House | 6 | 27 |
| Edwin House | 9 | 66 |
| Hastings Close | 5 | 58 |
| Leontine Close | 6 | 119 |
| Neville Close | 6 | 103 |
| Wentworth Crescent | 4 | 62 |
| Wilmot Close | 6 | 72 |
References
[
]