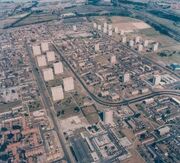 Castle Vale is a major housing estate in Birmingham, England. The estate was built on the former Castle Bromwich Aerodrome, which served as the main testing facility for Spitfires manufactured on the opposite side of Chester Road in World War II. After the war, the aerodrome became redundant and plans for its redevelopment into one of the country's largest housing estates were approved in stages from 1964 to 1968.
Upon completion, the estate consisted of 34 tower blocks, five schools, two shopping centres, 27 four storey blocks of maisonettes, three storey blocks of flats, over 100 bungalows and hundreds of terraced and semi-detached houses. By the end of the 1960s, it could house 20,000 people. Shortly after completion, the estate began to witness substantial social problems, compounded by the poor construction of the estate itself. In 1993, a Housing Action Trust was set up to commence plans for Europe's largest regeneration programme on the estate. The programme lasted for 12 years and saw a noticeable reduction in social issues on the estate, as well as generating employment and improving education on the estate. The programme also saw the demolition of 2,275 homes, including 32 tower blocks, as well as the refurbishment of 1,333 homes and construction of 1,464 new homes.
Of the 34 tower blocks originally constructed, Topcliffe House and Chivenor House were the only two to be retained and were refurbished as part of the regeneration.
The estate features prominently in the first episode of the 1992 drama 'the Guilty.'
Tower blocks
Edit
The first six tower blocks to be approved were the West Group on Farnborough Road in 1964:
This was followed by the approval of Chivenor Primary School and Chivenor House on top in the same year. Later in 1964, the Centre 8 blocks were approved on Tangmere Drive:
In 1965, the Central Group of the Farnborough Road blocks was approved:
Later in the year, Topcliffe Primary School and Topcliffe House on top of it were approved for construction. This was followed in the same year by the approval of:
The East Group of the Farnborough Road blocks were then approved later in 1965:
The three Manby Road blocks were then approved, again in 1965:
On Park Lane, Valiant House was approved for construction, also in 1965.
This was followed by Hercules House at the end of 1965.
In 1966, Concorde Tower was approved as the tallest block on the estate.
Albert Shaw House was the final block to be approved, constructed alongside Castle Vale Shopping Centre.