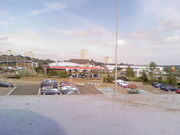 Cumbernauld is a New Town in Scotland. It was built as a population overflow for the city of Glasgow. The town has many areas of housing estates with most of the town comprising of them, there is however several ex-villages that retain their pre new town streets and housing. Its population was 51,300 when estimated in 2004, making it the 8th largest town in Scotland. The name comes from the Scots Gaelic "comar nan allt", meaning the meeting of the waters.
Contrary to belief Cumbernauld is not rundown and dirty. Just the old parts of the town centre are which at the moment are going through regeneration. The tower blocks and all council housing has recently been announced as part of £400 million regeneration project in which the buildings will be reclad and have new kitchens and bathrooms etc. This project is slated for completion by 2015.
The town has 12 tower blocks, the highest of which is 55 metres and is named Stuart House. All the tower blocks in Cumbernauld have the word "House" in their names. They are:
Community content is available under
CC-BY-SA
unless otherwise noted.