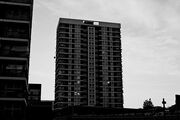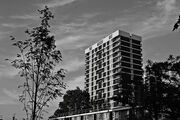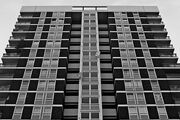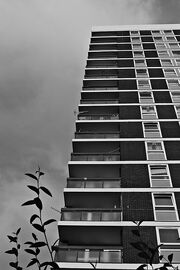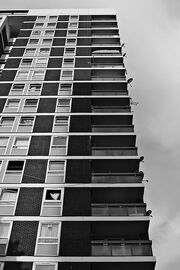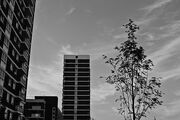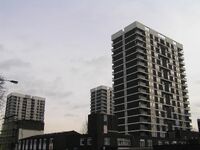 The De Beauvoir Estate is a council estate in De Beauvoir town, a district of Hackney, North East London.
Built in the late 1960's, the De Beauvoir lies on a mixture of former industrial land and former Victorian terraces immediately to the north of the Regent's Canal. The canal forms the estate's southern border, with Downham Road forming the northern boundary. Southgate Road and Whitmore Road provide approximate western and eastern boundaries respectively (although one of the estate's tower blocks, Lancresse Ct, lies to the east of Whitmore Rd).
The estate consists of five tower blocks of similar design - Rozel Court, Lancresse Court, Granville Court, Corbiere House and one other - and a number of lower-rise, interlocking maisonette 'snake' blocks, which interlink to form large courtyards. The estate is also equipped with a small arcade of shops, and originally boasted a library as well as other amenities, some of which have been converted into other uses.
The estate's colour scheme - rich chocolate brown brick, white woodwork and yellow spandrels - together with its canalside location, give the De Beauvoir a distinctive visual character. The estate is close to fashionable Shoreditch and Islington, within walking distance of the City, and surrounded by the sought-after Victorian streets of De Beauvoir Town.
The estate has an active tenants association supported by local councillors.
Community content is available under
CC-BY-SA
unless otherwise noted.