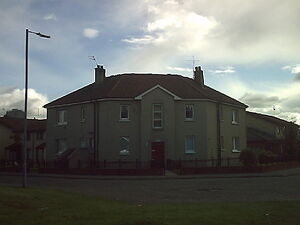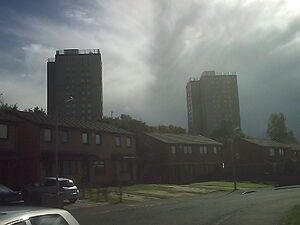 The Ferguslie Park, know locally as "Feegie" Is a housing estate located on the north-western outskirts of Paisley, near Glasgow. Part of the Ferguslie district, it is physically cut off from the rest of the town by a network of railway lines and disused railway embankments. It shares boundaries with the town of Linwood to the north, the village of Elderslie to the west, Millarston to the south and St James to the east.
The estate was built between the 1920s and 1960s in stages. The most common form of housing was in cottage flats and 2-4 storey tenements. There were also 207 flats in deck access blocks also ranging from 2-4 storeys in height. In total, 3,500 houses were built and population peaked at 13,500 in the 1960s.
The isolated nature of the housing scheme as well as other socio-economic factors have been the downfall of Ferguslie Park. Crime and drugs ravaged the community and it was one of the first 20th century estates (not including prefab communities) in Scotland to be partly demolished as a few streets were razed in the early 1970s. It was awarded Priority status in 1979 although the estate continued to fall further and further into poverty during the 1980s. The closure of the nearby Rootes Cra Plant led to unemployment rates soaring to nearly 80% by 1990.
By 1990, around half of Ferguslie Park was either unoccupied or demolished with a population of only 5600 and a 12% vacancy rate. The crime and drugs problem was well reported in the media and led to the stigmatisation of the residents, locally referred to as 'Fegz', that remained.
Comprehensive regeneration began in 1988 with the demolition and rebuilding of the Westburn area, with Dalskeith and Glencoats to follow over the next 15 years. Tannahill and Blackstoun were to be the only areas left virtually untouched in the £45m project funded by the European Union and the Scottish Executive. Big names such as Miller, Wimpey, Barratt and Bellway were to be involved in the reconstruction of homes centred around a new-look community centre, which was named the Tannahill Centre.
At present, the physical masterplan is almost complete. The houses have been built, as have the retail park and the Tannahill Centre, although the estates social problems are still very evident. In 2006, it was found to be the most deprived area in Scotland and some of the new-build housing have fallen into a state of disrepair similar to that of their predecessors.