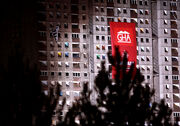 Glasgow Housing Association (GHA) is a private not-for-profit company created by the Scottish Executive for the purpose of owning and managing Glasgow's social housing stock. This housing stock, numbering many thousands of houses and flats, was, prior to 2003, owned by the Glasgow City Council. Following a poll of the Council's tenants, the vast majority of their social housing was transferred to the ownership of the Glasgow Housing Association.
It is a key part of the GHA's business plan and original mandate, that at a later point, the housing stock should be transferred furtherly from GHA, to a number of smaller housing associations. The reason given for this transfer is that social housing should be under the control of corporations local to the houses they are controlling.
Currently, GHA is taking part in a trial of the Secondary Stage Transfer process, along with several of the smaller housing associations mentioned above.
GHA is currently running several months behind schedule and has recently released a thirty-year business plan, leading to vocal speculation from some organisations that the company does not wish to transfer all of its housing stock to the smaller groups.
Part of GHA's mandate is that it should manage the upkeep and general maintenance of its housing stock. To this end, GHA has set up a subsidiary company, Glasgow Housing Association (Management) Limited, to look after repairs to its housing. GHA is a profit-making company and made in the region of £2 million in profits over the financial year 2005/2006.
GHA's repair and general upkeep record has come under sustained attack from its tenants and other customers, with many people threatening lawsuits over lack of repairs and unfair charges when they do come.