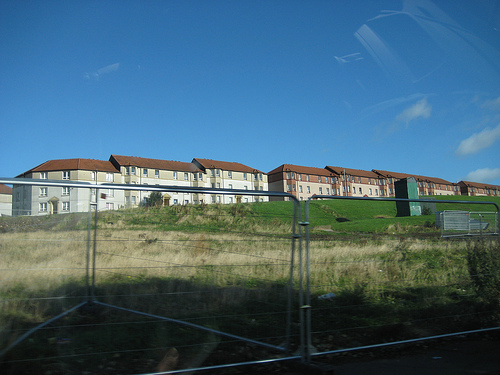 Haghill is a housing estate made up of postwar tenements replacing slums of the Victorian era in Glasgow. In 2002, the Victorian slums were pulled down leaving wasteland, which, in 2008 was replaced by new houses. Gang related problems have existed in the area since the 1970s. Haghill neighbours and is part of areas like Duke Street, Alexandra Parade and Carntyne. Haghill is mostly located in Dennistoun but is an estate in itself. Although being so close to Celtic FC's home ground of Celtic Park (Parkhead) Haghill is predominantly a housing estate which sides with their main rivals Rangers FC. Union Flags and red, white & blue bunting can be seen on all occasions (Armed Forces Day, Royal occasions, Rangers celebrations and important British dates) in the smaller section of Haghill known to the locals as 'Little Belfast'. This is perpetuated by the local bars/pubs on Duke Street which include three bars aimed soley at Rangers fans (The Louden tavern, The Bristol Bar and the YCV hall). Haghill has had a frosty relationship with its neighbouring areas with regards to the youth gang culture which is rife across the eastend but has been reduced in recent years. Haghill is also an area stricken with drug dealers but its people are friendly and good natured but just make sure you know someone who lives their before you venture in at the weekend, especially at the weekend.
There is a large park called Alexander Park (with a nine hole golf course) which is situated to the north of Haghill with entrences on Cumbernauld Road which is also the new site for newly built Haghill primary School.
Community content is available under
CC-BY-SA
unless otherwise noted.