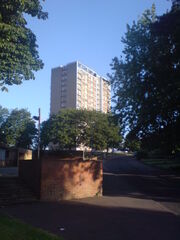 Harlech Tower was a 47 metre tall tower block on Wilmot Drive on the Lyndhurst estate in Erdington, Birmingham, England. It was the tallest tower block on the estate at 16 storeys in height and, when occupied, it had 91 flats.
Construction of the tower was approved in 1958 and was completed in 1960. In 1961, it won the Civic Award for housing, along with the rest of the estate, mainly for the architectural qualities which include an exposed concrete frame, full height glass stair case, false upper level to hide the laundry facilities and the detailed exterior to the building. It was situated on top of a mound giving it a greater presence over the estate and surrounding area. To the rear was a recreation ground.
As a result of social issues in the estate, Birmingham City Council has started the redevelopment of the entire estate which has seen the demolition of one tower block and all the maisonette blocks. In late-2011, Harlech Tower was demolished following the removal of a mobile phone mast earlier in the year. Semi-detached homes will be constructed on the tower and recreation ground site, with a new recreation ground behind created in the centre of the estate. The remaining tower blocks were refurbished through 2010 and 2011. As of 2014 a new estate has been built alongside the Lyndhurst and named Abbey Fields.