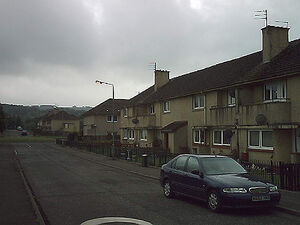 Howwood Road is a housing scheme in Johnstone, near Glasgow. It was built between 1932 and 1934 between the Beith Road and the Glasgow/Ayr railway line.
Housing was made up of 4 in a block cottage flats or two storey tenements. The design of these flats were unique to the estate. For example they had balconies, a peculiar feature for 2 storey buildings. There were also several blocks of terraced bungalows built for elderly people.
Howwood Road's isolated position gave the community problems. There was only a small row of shops and a chip van that served the estate. There were two primary schools, although no buses ran through the scheme. The scheme was even cut off from the rest of the town geographically by railway lines and Thomas Shanks Park.
During the post war period, more housing estates were built in west Johnstone. Two high schools were opened in the immediate area and buses were more frequent along the Beith Road although none still ran through the estate.
With the development of nearby housing schemes such as Sandyflats, Corseford and Spateston, tensions grew between youths in the different estates and gang-related crime became a problem. The Howwood Roaders were particularly notorious in the town.
The scheme was well-known as the worst area in Johnstone for its crime rate and lack of amenties. The housing also began to show signs of wear and tear in the mid-1970s when around half the estate were decanted to refit homes that were suffering major problems with damp.
In the early 2000s, regeneration began. Flats on Benston Road, Craigenfeoch Avenue and at the end of Craigview Avenue were demolished. A new school has been built (2008) to replace the both Cochrane Castle Primary (non-denominational) and St David's (denominational) primary schools on Craigview Avenue.
The rest of the estate was refurbished with new kitchens and recladded with fresh pebbledash.
Community content is available under
CC-BY-SA
unless otherwise noted.