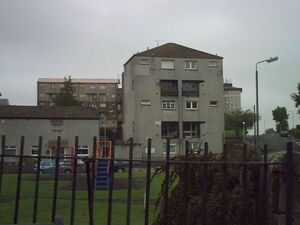 Johnstone is a former industrial town near Glasgow, Scotland. It is home to around 17,000 people making Johnstone the third largest town in Renfrewshire behind Paisley and Renfrew. It was founded by George Houston on the 23rd of January 1782 to accomodate the workers of the twenty mills that were situated on the Black Cart water that flows through the town.
The first houses in Johnstone were cottages, however, with the larger than expected influx of people moving to the town to work in the mills, these became overcrowded very quickly and many were converted into tenements with backgarden sheds even converted into accommodation.
After the First World War it became apparent that living conditions in Johnstone were highly unsuitable and the first housing estates were constructed at Ritchie Park and Dimity Street from 1925 onwards to reduce the density in the town centre. Other major schemes like Howwood Road and Cartside were built in the 1930s as the town expanded west.
Johnstone continued to boom in the postwar period, becoming the fastest growing town in Scotland as several large housing estates were built to accommodate 'overspill' from Glasgow's slums expanding the town further west and south the largest of these is called Johnstone Castle which is home to around 5000 people, over a quarter of the town's total population.
Since 2007, Johnstone has been undergoing a continual period of regeneration. Ritchie Park has been demolished to make way for new housing and in the post war schemes, particularly Corseford and Johnstone Castle, demolition of council flats to be replaced by private builds is the policy that is being applied. Fifteen 5 storey tower blocks have been demolished since 2002 at North Road and Johnstone Castle. Despite all this, much of Johnstone still falls into the top 15% poorest neighbourhoods in Scotland, with Johnstone Castle and the housing estates in West Johnstone being particularly problematic.
Community content is available under
CC-BY-SA
unless otherwise noted.