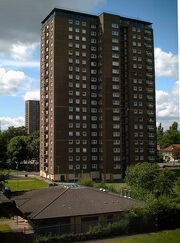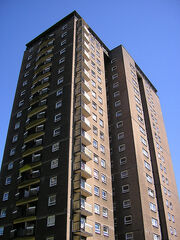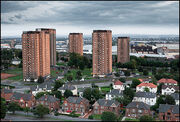 Kingsway Court is a housing scheme consisting of six 20 storey tower blocks in Scotstoun, in the West End of Glasgow. They were built in 1962 by Wimpey as part of the Scotstoun House project and each are 58m tall. They are currently run by Glasgow Housing Association and the concierge station is based at 30 Kingsway Court
In recent years the flats have been home to relatively high numbers of refugees and asylum seeker families. The annual Kingsway Carnival-beginning in 2008 - was initiated to help unite the diverse communities living within the estate.
Asylum seekers in Kingsway were frequently victims of 'Dawn Raids' by police. The community - Scottish and non-Scottish - were appalled at what they saw as a moral injustice against their neighbours, and they, effectively, stopped this action.
Kingsway Health and Well Being Centre was set up in 2002 to promote health and well being in Kingsway and in nearby Plean Street.
Since GHA adjusted the water pressure to the blocks in 2006, water damage is a major problem in some of the blocks. KingswayEye made a short documentary (in asociation with Diversity Films) in 2010 highlighting the problems faced by residents of 40 Kingsway Court which included mould, dampness and chronic leaks.
In the documentary, presenter and resident Noreen Real states: "If this is what Glasgow Housing Association call progress... Think of all the people who have been affected here... Think of all the houses that have been ruined. This is not progress. This is torture."
Norren Real also films her own chat show, Get Real, from the 17th floor of 40 Kingsway Court. Previous guests have included Film director Peter Mullen and one-time X-factor contestant Nikitta.
The future of the estate is currently uncertain, with plans for refurbishment and demolition both being reviewed,