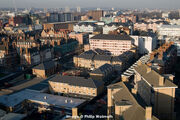 The Lisson Green Estate is a large council estate in Westminster, London.
Designed in the 1960s, the Lisson Green Estate was built between 1970 and 1975. The estate consists of 23 blocks along with street houses making it one of the largest housing estates in Westminster.
Demolition of walkways
Edit
The estate was transformed in an ambitious, ten year regeneration programme which completed in 2007. It included the demolition and re-modelling of a number of blocks to removing the communal walkways that linked them all together. The walkways contributed to major issues with security and anti-social behaviour. The local police force at the time often commented that the walkways were like "streets in the sky" which sadly made it a dangerous place to be at times. The demolished blocks were replaced with blocks of low rise flats, with the remaining blocks renovated to a high standard.
From 2004, an increase in knife and gun related incidents were reported on the estate stemming from gangs on the Lisson Green and Church Street estates coming into turmoil with neighboring housing estates such as the Rowley Way estate, Warwick estates and the Queens Park Estate. There is a heavy police presence on the estate to tackle anti-social behaviour which has sometimes led to heated confrontations between local youths and the police. An incident in 2008 was reported when up to 50 youths chased after 2 police officers following a scheduled fight between local gangs.
Jevon Henry Stabbing
Edit
The Lisson Green Estate received negative publicity in 2007 following the murder of 18 year old Jevon Henry who was stabbed to death on the estate in a planned ambush by armed gang members. The estate has been suffering from a long gang history dating back to the mid 1980s.
£40 million diamond robbery
Edit
The ringleader in the recording-breaking £40million Graff diamond robbery recruited his gang from the Lisson Green estate where he grew up. Aman Kassaye along with Beyene, Thomas, Mogg and Kassaye were all sentenced to lengthy spells behind bars totalling 71 years for their involvement in the bold gem raid. As the main organiser, Kassaye received the longest jail term of 23 years. He was given 16 years for conspiracy to rob, a further five years for possessing a firearm and a further two years for kidnap. It emerged that Kassaye recruited the majority of his team of willing robbers from Lisson Green, although those who planned the daring heist remain at large.
Community content is available under
CC-BY-SA
unless otherwise noted.