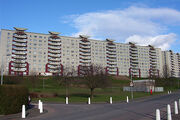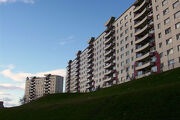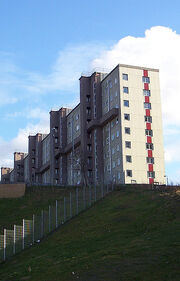 Moss Heights were the first high rise flats to be built in Glasgow in 1953. They are located in the Halfwayhouse estate in Cardonald and were designed by Director of Housing, Ronald Bradbury in 1946 and the project was overseen by A. G. Jury, Glasgow's City architect.
The estate consists of three 10 storey blocks and two 4 storey blocks. Block C was the first to be completed, followed by Block A, and then followed by the largest block, Block B, which is 486ft long. Despite their lack of height, they were built on high ground giving them the impression of them being taller. Residents on the higher floors have excellent views over Pollock Country Park. They were refurbished during the 1990s which saw exterior and interior improvements including larger lifts. Trouble had previously arisen when large items of furniture, or even coffins, could not fit inside the small lifts.
Each flat in the blocks consisted of three bedrooms, a large living area, a bathroom and a kitchen. The flats cross the width of the blocks, maximising natural light penetration and taking advantage of the views. The flats contained new luxuries when they were completed, including central heating and a heated towel rail in the bathroom. Hot water and heating was supplied from a central boiler attached to one of the blocks. Some features did not stand the test of time, including the kitchen sinks which were divided into two basins; one for washing up and the other, a deeper basin for laundry with fittings for a wringer between them.
The 10 storey blocks were constructed with loadbearing walls and flood slabs of in-situ reinforced concrete 7in thick. The exterior walls were constructed with an additional inner leaf of thick foamed slag, creating a cavity space. Exterior facing walls have precast concrete slabs with an exposed aggregate finish of Dorset pea gravel. The blocks have crescent-shaped balconies. The facing slabs were fixed to the walls using dovetail metal brackets fitting into dovetail slots in the reinforced concrete wall.
The consulting structural engineers for the reinforced concrete work were F. A. MacDonald & Partners, and the main contractors were Holland & Hannan and Cubitts (Scotland).
Tower blocks
[
]
Moss Heights consists of three 10 storey blocks:
Moss Heights II

Moss Heights III