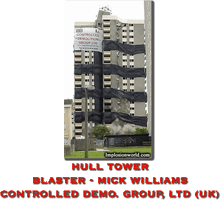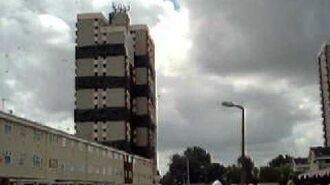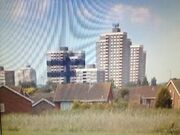 Vernon House was a 64m, 22 storey tower block built in 1967 on Hull's Orchard Park Estate. The tower block sat in the Homethorpe cluster of tower blocks and was originally called 'Homethorpe Block 3' but was renamed Vernon House in the early 90s. The other 2 blocks in the Homethorpe cluster were Drake House and Bridgeman House, both of which have also been demolished. The Vernon House was the tallest residential building in Hull and was recognisable for having a complex of comunication antennae on the roof.
Originally scheduled for demolition in July 2002, along with Drake House and the two Milldane blocks, however it won a reprieve, because of the mobile phone masts atop the building having to be resat, despite no arrangements to move the phone masts elswhere. The block stood empty for 2 years, attracting notoriety in the local papers.[1] as vandals through objects out of 22 floor windows and the block being set on fire. Vernon House was finally demolished on Sunday 27th June 2004.
Vernon House is the template for the fictional 'Hopewell House' of Iain Brimswall's novel 'The Zookeeper'.
Community content is available under
CC-BY-SA
unless otherwise noted.