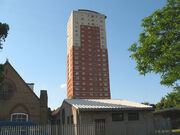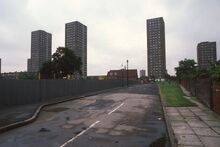 The Woodpecker Estate (also known as the Milton Court Estate and Ghetto Estate) is a large postwar housing estate on the border of the New Cross and Deptford areas of Lewisham, London. The site was previously terraced housing that was completely cleared. Pockets of housing was constructed during the 1960s such as around Knoyle Street, Vansittart Street, Granville Court in the west, and the construction of Milton Court in the south east of the estate. Some of this housing was demolished as part of the reconfiguration of the road layout of the area for the estate. .
When completed ( image on the right ), the estate consisted of 8 tower blocks of varying heights, numerous 3 storey blocks of flats and blocks of maisonettes. In the centre of the estate was the main local shopping centre, named the Woodpecker Centre, plus two churches, a library and a pub named The Spanish Steps. Around the north and eastern edge of the estate were three multi-storey car parks. The maisonette blocks were grouped in clusters and each block within a cluster would be connected by footbridge to another so that residents need not go down to road level to visit another block.
The estate became synonymous with gang culture in Lewisham from the 1970s onwards. In 1992, an Estate Action Plan was drawn up for the regeneration of the estate. The plan lasted 10 years with limited funds and resulted in all but one of its tower blocks being demolished and replaced with three storey blocks of flats. Maisonette blocks were also demolished or refurbished.
Tower blocks
Edit
The three 23 storey tower blocks originally constructed were:
The five 14 storey tower blocks constructed were:
* - tower block not demolished.
Other blocks on the estate which did not form part of the original project:
Milton Court - a pair of 9 storey tower blocks
Granville Court - a five storey b
External links
Edit
Community content is available under
CC-BY-SA
unless otherwise noted.